By: Elena Filimonova, Chief Marketing Officer, Suvoda
Reliability, quality and service to deliver for patients
By most measures, 2022 was an incredibly volatile year, with the war in Ukraine, soaring inflation, global market volatility, and a continuing COVID pandemic, among others events. Like industries across the economy, clinical trials felt the impacts of these disruptions, after a possibly short-lived return to relative normalcy in 2021.
In December, I sat down with leaders from across Suvoda's business, including:
Jagath Wanninayake, CEO
Rob Hummel, COO
John Ristuccia, SVP of Global Client Services

Our discussion focused on the big ideas and trends they are seeing out in the world, and what that might mean for the clinical trials landscape in 2023 and beyond. We identified five big projections for the coming year.
Projection 1: Expect an overall move to reduce risk across sectors, especially in pharma and in clinical trials.
As financial markets are tightening, Suvoda leaders expect an emphasis on surer bets: in terms of the companies to invest in, the compounds to continue advancing through the clinical trial cycle, and the trial technologies to employ. We are beginning to see "sponsors doubling down on the programs they have confidence in, and shelving programs that are more experimental," says Jagath Wanninayake, Suvoda's CEO. We foresee a significant move "towards more conservative, high degree of confidence clinical programs."
Rob Hummel, Suvoda's COO, also sees a sharper prioritization as companies move to reduce their overall risk. "It's all going to be about competence, and making sure that where they [sponsors] do invest, they absolutely deliver. A laser focus on getting trials done and getting them done right."
As just one example, although many expect decentralized trials (DCT) to continue to define the trial landscape, we're expecting sponsors will be more focused on pragmatic ways to incorporate decentralized elements into traditional trials. "Decentralization as a long-term trend is not going away. But, we are in very early stages of it and the risks are very high. The art and science of doing it isn't perfected," Jagath shared.
Projection 2: Sponsors will continue to face pressure to initiate trials quickly, sometimes before they've finalized all details. Uncertainty at the outset will lead to changes and delays.
Because of the emphasis on de-risking, sponsors and CROs will face increasing pressure to demonstrate progress to investors on the bets they have made. This pressure to get started and show impact will have an almost counterintuitive effect - increasing the likelihood that trials are initiated before all the details have been worked through, which trickles down to more uncertainty, change and amendments during a trial.
"There seems to be a much higher frequency of study teams that just aren't ready. There's a lot of decisions that haven't been made," says John Ristuccia, SVP of Global Client Services. "And I've actually started to see sponsors even recognize that and say that's true."
The overall impact will be ongoing trial delays, a similar trend to what we have seen in the clinical trials space over the last several years. "Historically, roughly 20% of our IRT projects experienced customer-driven delays," John says. "Then in 2021 it was closer to 35%-40%, and in 2022 it jumped to 50-60%. It may be that sponsors are being even more aggressive to show that they are moving forward, which makes delays even worse."
Projection 3: Patient-centricity and minimizing burdens for sites will be more essential than ever.
To state the obvious, patient-centricity has been a dominant trend across the clinical trial landscape for the last several years. Tools and approaches that reduce the burdens for patients to participate in studies promise to increase patient interest, recruitment and retention in clinical trials, like a recent JAMA Open Network study found.
"Patient centricity - making things easier for the patient, both in terms of participation and compliance in a clinical trial - is going to be more important right now," Jagath expects. Rob adds, "Patient recruitment is still the biggest challenge that companies have; it has been for 20 years. And if they're doubling down, it's equally important that they can keep those patients in the trial. So having a patient centric approach is even more important, given the environment we think we're moving to."
The trend of making recruitment and participation in clinical trials easier also applies to sites. With increasing competition for high-quality sites to run studies, sponsors will also need to find ways to minimize the burdens facing those implementing each trial. According to Jagath, "Site burden is probably something that is going to be given more and more attention. How do you make it easy for sites to facilitate your trial? Is it using fewer applications? Is it making things easier for the site's decision making? Sponsors are competing for the same sites that conduct trials in cardiovascular disease or a certain type of cancer, for example. And so it's really important to say: 'look at your burden - we can make it a lot less.'"
Projection 4: Reliability, quality and service will be hallmarks for successful clinical trial technology implementations.
When it comes to trial technology, the overall climate of de-risking means that smooth and streamlined execution will almost be more critical than the technology itself. Flashy technology tools will not be the golden child they have recently been; instead, "reliability, quality and service - those are the three things that you need to be successful," Jagath explains.
In the technology spaces where Suvoda works - IRT, eConsent and eCOA - quality delivery will be critical for successful studies. Rob sees it clearly: "What you need in IRT, what you need in eCOA, isn't just the software. You need the services, you need the support, you need the subject matter experts, you need the consultative advice to make your trial successful."
Relationships with dependable partners to deliver reliable, quality service will be difference-makers in 2023. Jagath agrees, "you need a trusted partner and you need more than the software to make sure that things stay on track and de-risk all across the board."
Projection 5: Pragmatic technology and service innovation will deliver our industry's big goals.
No offense to technology and all the interesting applications that always seem just five years away, but technology is just a tool to deliver on the promise of clinical research - better therapies for patients who need them most.
"The big, bold idea is not the sexy software. The big idea is the disease you're trying to cure or the therapy you're going to bring forth. There are some really big bold ideas, for instance, around immuno-oncology, CAR T-cell therapies, CRISPR and gene editing. And what we [technology] offer is a really boring and stable way to get to that big idea without snafus in the middle."It is a big statement from a clinical trial technology CEO, but for Jagath, delivering technology smoothly, and with purpose, has always been priority number one.
Technology innovation must be pragmatic, practical, and solve real problems now for sponsors, sites and patients, and that is how the clinical trial industry can deliver on its promise to the world. "It's balancing the innovation with continuing to have rock solid execution," John shares. "What matters to you is that your trials go smoothly and the drug gets approved as quickly as possible without any hiccups."
Dependable partnerships to support the drive toward better medicines
The clinical trial industry has enjoyed investment, innovation, and a focus on patients over the last several years. Those trends are not going away, but they will be positioned within an overall climate of de-risking - which can be an important guardrail to spur progress.
"We're coming off of a couple of years of irrational exuberance and getting back to more fundamentals," John shares. Fundamentals, boundaries and necessity may be the mother of the invention that matters most: getting exceptional treatments to the very ill in safe, thoughtful, reliable ways.


Learn more how we can help you with your clinical trial technology.
---
Author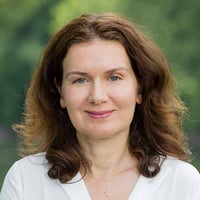 Elena Filimonova
最高マーケティング責任者
Suvoda