Reposted with permission from Clinical Trials Arena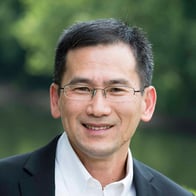 eClinical technology innovations are simplifying trial complexity for patients, site managers and sponsors. In this interview with Suvoda's Chief Product Officer, E.K. Koh, he shares his perspective on the different ways that innovation is bringing new possibilities to light.
What have you learned from working in product innovation in other industries that you can bring to improve clinical trials?
Two things drive innovation. One is new technology that enables an existing problem to be solved differently in perhaps a much more efficient way. The other is shifts in markets which create new pain points, new opportunities, that we can now apply technology to. Those are the key drivers for innovation, and they apply to most markets, whether it is the clinical trial market, the broader healthcare market, financial services, or anything else. So, I think the experience I have driving innovation in other industries is very applicable here — the ability to spot new technologies and how that might apply to solving the current problems differently.
Where does Suvoda see an opportunity for innovation in clinical trials?
Suvoda is focused on the efficient management of patient and drug supply logistics in a clinical trial. There are a lot of opportunities to improve on both through continuous innovation in those areas. One way is to make the patient's experience of the clinical trial much more integrated and seamless, right from enrolling them to the trial itself to how he or she reports back on the trial as it progresses. Another area is the drug supply chain itself. There is opportunity to improve visibility of drug logistics during the course of the trial.
What specifically is Suvoda doing in these areas?
In 2018 we released direct-to-patient drug shipping, which is a step towards making it easier for patients to participate in these trials. We have also released temperature excursion management which makes it easier for drug supply managers to manage temperature-sensitive drugs through the supply chain.
We are currently focused on providing a much more integrated patient journey for our customers. If you look at a trial, it starts with onboarding the patient and all the concerns that the patient needs to be apprised of before they consent to participate. Then the patient is enrolled, screened and assigned to a treatment arm. As the trial progresses, study teams want to capture the patient's reported outcomes. Integrating patient consent and clinical outcome assessments with our IRT is the area that we are working on to create an enhanced and seamless patient experience. The other part is to make it easier for our sponsors or site managers to have better visibility to trial metrics, enabling real-time decisions and providing greater mid-trial control.
What are future trends in product innovation that will help shape clinical trials?
A big trend for us is the decentralization and the virtualization of trials. It has been happening for a while, but COVID has really accelerated that trend. It's about bringing the trial to the patient, providing that flexibility. This goes all the way from site-centric, which is where we are today and where the patient comes to the trial site to participate in the trial, to the other end of the spectrum where the patient is fully remote. I think the reality is it's going to be somewhere in between with some elements of the trial conducted on-site while others will be conducted remotely. So that level of flexibility needs to be available to the study teams in order to be able to bring drugs to market faster in a more cost-effective and efficient manner, and available to patients to make it easier for them to participate in trials. It's very real and attainable. We want to have the digital tools to make that possible for patients and our site managers and sponsors.
What are you most excited about in this space and your role in it with Suvoda?
It is the opportunity to drive the transformation we have discussed through a platform-based approach. We can provide that platform to enable the digitization of different parts of the patient journey to ensure that the patient experience is optimized and to ensure that the data we collect in each part of the journey is integrated. We also have the opportunity to make it easier for sponsors and study managers to manage all the different parts of the patient journey from one integrated platform. I think that's what's most exciting and that's the opportunity for Suvoda and our customers, and we're well-positioned to do that.
Interested in learning more about how Suvoda's clinical trial technology solutions can help your clinical study?
Request a demo.